Many shooters consider 9mm Luger to be the best pistol round for self-defense. It certainly has a large following in both the civilian and law enforcement worlds. However, finding the best 9mm ammo can be a confusing and problematic undertaking.
As one of the most popular (if not THE most popular) handgun cartridges in creation, there are literally thousands of 9mm options in current production, with more being released each year. With so many variations hitting the shelves, it can be hard for even the most dedicated shooters to keep up. That's why we've compiled a list of some of our favorite loads for both self-defense and target shooting. If you're looking for quality ammunition, you can't go wrong with any of these loads.
If you do not have time for the details, here are our top picks for 9mm ammo:
Finding the Right 9mm Ammo
The type of ammunition you need to feed our 9mm mostly depends on your shooting application. Self-defense shooters have very different ammo requirements than target shooters. Here are just a few things to look for.
Self-Defense Ammo – Balancing Penetration and Expansion
When it comes to self-defense rounds, modern manufacturers are constantly striving to find the perfect balance of expansion and penetration. Usually, one is sacrificed to produce the other.
For example, too much expansion can cause penetration issues. Even a massively expanding bullet will have a hard time eliminating a dangerous threat if that bullet stops short of hitting vital organs. Too much expansion can also limit projectile penetration through common barriers like glass or heavy clothing.
On the other hand, a projectile that does not expand can over-penetrate the target, which can also be a problem in a self-defense situation. A bullet that passes through its intended target becomes a danger to anyone else that may be standing in its path.
Also, a 9mm wound channel is not very large. Self-defense shooters need a bullet that expands beyond the original 9mm diameter to inflict enough tissue damage to be effective.
The leading 9mm options for self-defense will offer adequate tissue penetration, ample expansion, and reliable barrier penetration.
Target and Practice Ammo
If you're shooting paper or steel targets, you really don't need to shoot expanding bullets. Most plinking and target ammo features non-expanding full metal jacket (or FMJ for short) projectiles.
Sometimes referred to as "ball ammunition," FMJ loads are usually cheaper than self-defense loads, which contributes to their practicality for practice. If you need to hone or brush-up on your shooting skills, you'll need to put a lot of rounds through your weapon. FMJ loads will definitely be the most affordable tools for the job.
If you're practicing for the possibility of a self-defense situation, make sure to choose practice ammo with the same projectile weight and similar ballistics to your carry ammo. This will provide you with the most realistic practice possible.
Cleaner Options for High-Volume Shooters
Some practice ammunition is built with clean-burning powders, lead free primers, and total metal jacket projectiles. TMJ bullets have a thoroughly encased lead core, which reduces lead exposure and barrel fouling.
These "clean" options are a great choice for high-volume shooters. Not only do they reduce exposure to dangerous lead and other heavy metals, they also reduce the amount of cleaning and maintenance you'll need to perform on your weapon.
"Clean" ammunition is also a smart choice for indoor shooting. Since lead exposure is reduced at the firing point, these cartridges are safer for indoor ranges where air quality can sometimes be a major concern.
Best 9mm Ammo on the Market Reviews
Because 9mm Luger is one of the most common handgun chamberings around, there is a ton of ammo available to the modern shooter. Every major ammunition manufacturer offers several different 9mm options.
With so many different designs to choose from, narrowing it down can be a pretty monumental undertaking, especially if you're new to the world of guns and ammo. We've taken some of the stress out of the search by offering a list of what we consider some of the best (and most affordable) options on the market today.
Best 9mm Ammo for Self Defense
1

Speer Gold Dot Carry Gun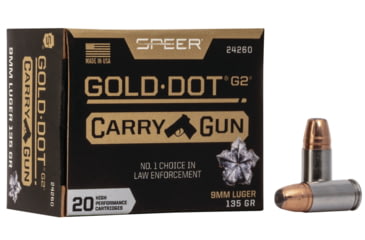 Law enforcement officers around the globe trust Speer Gold Dot ammunition for their duty weapons. Speer built upon that successful design to create ammunition optimized for short barrel, compact handguns.
Gold Dot Carry Gun loads feature Speer's unique G2 bullet design. The standard hollow point nose has been replaced with a shallow dish filled with elastomer. When the projectile makes contact with the target, the elastomer tip is forced backward into strategically engineered internal fissures. The result is reliable, uniform terminal expansion and dependable penetration, even through tough urban barriers.
These loads work best when run through a concealed carry pistol with a  3-inch barrel (like the Sig P365 or Smith & Wesson M&P Shield, read our article about Smith & Wesson M&P Shield holster options).
2

Federal Premium Personal Defense HST
Perfect for both home defense and EDC, Federal Premium Personal Defense features a specially designed HST projectile. The HST hollow point is deeply tapered so it will not clog, even when passing through tough barriers. In testing protocols, HST bullets plowed through 10% ordinance gel, heavy clothing, steel, wallboard, plywood, and even laminated auto glass.
When fired from a Glock 17 with a 4 ½-inch barrel, 147-grain HST bullets deliver 13.63 inches of penetration, expand 0.63 inches, and retain 90 percent of their original mass, even after passing through difficult FBI barriers.
The HST design also features a cannelure that locks the hard copper jacket to the soft lead core for maximum weight retention.
Federal Premium also included other quality features that help make these loads perfect for personal defense, including nickel-plated brass cases, highly consistent powder charges, reliable boxer primers, and waterproofing on the case mouth.
3

Winchester USA White Box JHP
Hunters and serious shooters have relied on Winchester "White Box" ammo to provide reliable performance at an affordable price for generations. These JHP loads are perfect for budget conscious shooters.
These loads feature the high-quality components that made the Winchester name famous for its reliability. Topped with an expanding jacketed hollow point, these loads are well-suited for all duty and self-defense applications. (We absolutely love this option for an EDC Glock 19.)
Winchester White Box JHP loads come in several projectile weights ranging from 115 grains all the way up to 147 grains. The 115-grain loads make a nice low recoil option, while the heavyweight JHPs deliver deeper penetration.
4

Hornady American Gunner XTP
Hornady's American Gunner line of ammo is made up of proven, versatile loads shooters love. The line-up includes something for just about every shooting application, including target shooting, hunting, and self defense.
When it comes to personal protection, we are big fans of American Gunner 9mm XTP. Loaded with Hornady's famous 115-grain XTP (eXtreme Terminal Performance) projectiles, these rounds offer incredible accuracy and dependable expansion at a variety of velocities. This makes them a fine option for full-size handguns (like the Glock 34 designed specifically for competition shooting) or for something subcompact (like the Taurus PT 111 G2C).
American Gunner is proudly made in the USA with premium components, including specially formulated propellants, high-quality boxer primers, and top-of-the-line, virgin brass cases.
5

Remington Golden Saber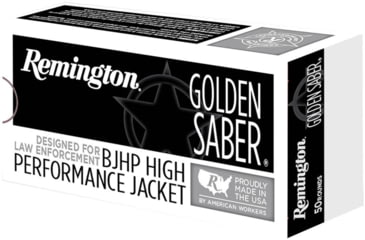 Unlike most jacketed self-defense ammo, Remington Golden Saber is made with a tough brass jacket rather than the usual thin copper gilding. The brass jacket is hot bonded to the lead core for exceptional weight retention (up to an amazing 97 percent through auto glass) that drives the projectile deep into soft tissue. The jacket is also nose cut in a patented spiral pattern which assists in terminal expansion.
With a slightly reduced nose diameter, Golden Saber bullets offer precision bore alignment for serious match-grade accuracy, something you won't find in most self-defense rounds.
Best 9mm Ammo for Plinking and Target Shooting
6

Magtech Sport
Magtech is manufactured in Brazil and shares the same parent company as the popular Czech brand, Sellier & Bellot (which is also on our list). The company doesn't seem to get much love among serious shooters, but it is definitely a quiet contender for the best "cheap" range training ammo.
This training ammo features full metal case projectiles. With a case that completely surrounds the inner lead core, these loads offer cleaner shooting perfect for shooting at an indoor range. With less lead residue left behind in the barrel, Magtech Sport also allows high-volume shooters to get in more practice time before we need to clean our weapons.
7

Sellier & Bellot FMJ
If you're looking for affordable, yet reliable 9mm plinking ammo, this is it. Manufactured in the Czech Republic, Sellier & Bellot uses state-of-the-art technology to produce some of the best quality ammo available to the modern shooter. The company also holds all of their ammunition to incredibly exacting standards. With tight tolerances, you can rest assured that all Sellier & Bellot rounds will offer consistent accuracy and function shot after shot.
Their 9mm FMJ loads are offered in 115 grains, 124 grains, and 147 grains and feature quality boxer primers and reloadable brass cases.
8

Winchester Super-X WinClean
Built specifically for indoor range shooting, Winchester's Super-X WinClean may be the cleanest shooting rounds on the market. These rounds use clean-burning, low flash powders and unique primers that are free of lead and heavy metals. They also feature BEB (Brass Enclosed Base) projectiles. With a brass jacket that completely covers the core from base to tip, BEB projectiles leave less residue inside the barrel of your weapon.
These clean-shooting features combine to eliminate airborne lead at the firing point. This makes these loads perfect for indoor ranges where air quality and circulation can sometimes be a health issue for shooters.
BEB bullets are also made with a flat nose design that beautifully punches holes in paper targets.
9

Federal American Eagle Subsonic FMJ
If you run a 9mm handgun with a suppressor, this is the ammo for you. Designed to reach its peak ballistic performance in a suppressed firearm, American Eagle Subsonic provides substantial noise reduction without sacrificing accuracy or performance. It even eliminates the signature "crack" that even the best suppressor can't seem to wipe out.
Federal American Eagle achieves this seemingly magical feat by using carefully selected propellants, bullet weights, and primers. We promise this is science, not magic.
These high-quality, quiet-shooting loads feature quality brass cases that are fully reloadable. Frequent shooters will also appreciate the clean-burning powders that reduce fouling, so you can spend more time shooting and less time cleaning your pistol.
10

Remington UMC FMJ
Finding the perfect balance between cost and performance can be tough, but Remington UMC definitely hits the sweet spot.
Remington merged with the Union Metallic Cartridge Company (UMC) in 1912. Today, the UMC moniker denotes Remington's second tier ammunition. Manufactured in Lonoke, Arkansas, Remington's UMC line is one of the best-rated low cost options available.
Remington UMC 9mm FMJ loads are available in 115, 124, and 147-grain variants. All are made with quality Kleanbore primers and factory fresh, reloadable brass cases.
11

PMC Bronze FMJ
At first glance, PMC Bronze looks like basic, no-frills ball ammo. However, these loads are made to very exacting tolerances. All PMC Bronze ammo goes through a rigorous electronic powder-check inspection. This high-tech electronic system precisely measures the amount of propellant that goes into each cartridge. Thorough inspection guarantees variations of no more than 0.2 grains, making these loads incredibly consistent and highly reliable.
PMC also manufactures each individual component that goes into their Bronze loads. Not only does this provide another level of consistency, it also helps keep the total cost low. PMC Bronze ammo is perfectly priced for high-volume shooting.
PMC Bronze loads offer reliable feeding, functioning, and ballistic performance. For shooters who want to reload for a more economical shooting option, they also feature quality, reloadable brass cases.
Final Thoughts
We are well aware that shooters can be highly opinionated people. After all, we're shooters, and we tend to be pretty opinionated ourselves. Putting out a "best of" list is risky business, especially for something as common as 9mm ammunition.
Please know this is not by any means an exhaustive list. There are plenty of other high-quality ammo options for both self-defense and target shooting. Space here is limited and so are reader attention spans. We've tried to add a little bit of something for everyone, but we know we've left off a ton of high-quality options. If we missed your favorite, please tell us all about it in the comments. We want to know what you consider the best 9mm ammo on the market today.